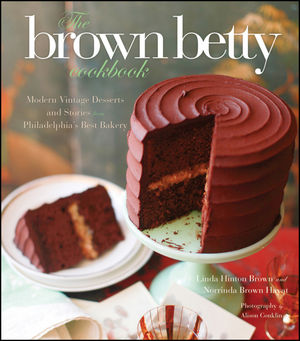 The Brown Betty Cookbook
by Linda Hinton Brown and Norrinda Brown Hayat
Wiley & Sons
I've always emphasized the importance that food and family play in my life, how my family and childhood memories influence my cooking. The Brown Betty Cookbook: Modern Vintage Desserts and Stories from Philadelphia's Best Bakery by Linda Hinton Brown and Norrinda Brown Hayat, a mother and daughter duo and owners of the Brown Betty Dessert Boutique in Philadelphia, PA, give new meaning to family-inspired recipes.
Family is the common theme running throughout this cookbook. Most of the recipes are preceded by short biographies of the women that influenced the development of the recipe. You'll meet the most important people in the authors' lives - mother, grandmother, aunt, cousin, and mother-in-law - and you'll see how these women influenced these ladies into the bakers they are today. I enjoyed reading through this family tree and meeting these inspirational women and their recipes.
The cookbook is divided into three sections:
Cakes, Fillings & Frosting

Pies, Cobblers & Puddings

Cookies, Brownies & Bars
The cake recipes include true classics such as Betty's Buttermilk Pound Cake, Sallie Marie's Sour Cream Pound Cake, Company's Comin' Coconut Cake, and Red Velvet Cake with Cream Cheese Frosting. But, you'll also find some recipes that sound a little more unusual but still tempting: Sweet Potato Cake with Spiced Vanilla Buttercream, Pineapple Pound Cake, and Nudie Chocolate Banana Cake with Blackberry Buttercream.
Interestingly, it wasn't until after the bakery had been opened for a while that the authors developed a recipe for their bakery namesake, Apple Brown Betty. And, there are plenty of pie recipes to choose from in this chapter including the classic Sweet Potato, Lemon Meringue, Pumpkin, and Carrot Pie. Peach Cobbler and Sweet Potato Pudding are thrown in for good measure.
In the final chapter, you'll be tempted by riches such as Double-Chocolate Cookies with Peanut Butter Chips, German Chocolate Cream Cheese Brownies, and the ultimate classic, Lemon Bars.
If you're a fan of dessert cookbooks, you'll love this one. It's a beautiful book with lovely full-color photos of each recipes. Even though it is a hardback book, the binding allows it to lay open easily while you're using it. In a world overridden with cake balls and elaborately decorated cupcakes and cookies, it's refreshing to find a cookbook that celebrates vintage recipes and classic baking methods. You should welcome it to your collection.
Plain Cake
Pound cake is one of my favorite cakes to bake and to eat. I'm always looking for pound cake recipes that are just a little different from the rest. When I saw this recipe for Plain Cake, I knew I had to try it. It did not disappoint. It was rich and buttery and everything I expected it to be. While the recipe called for the cake to be frosted in vanilla buttercream, I chose to leave it unfrosted. It was delicious!
Nonstick spray with flour
4 cups cake flour
1-3/4 teaspoon baking powder
3/4 teaspoon regular salt
4 sticks (2 cups) unsalted butter, at room temperature
3 cups granulated sugar
8 large eggs
3/4 cup whole milk
1-1/2 teaspoons pure vanilla extract
Pinch of ground nutmeg
Preheat the oven to 350 degrees. Coat a 10-inch angel food cake pan with nonstick cooking spray.
In a medium bowl, whick together the flour, baking powder, and salt.
In the bowl of a stand mixer fitted with the paddle attachment, beat the butter until light and fluffy and then add sugar on low speed until the mixture is light and fluffy, scraping the bowl as necessary, about 3 minutes. Add the eggs, 1 at a time, beating until blended and scraping the bowl occasionally.
In a measuring cup, mix the milk and vanilla together. Reduce the mixer speed to low and alternately add the flour mixture and milk mixture to the butter mixture, beginning and ending with the flour mixture and beating until smooth. Scrape the bowl. Add the nutmeg and beat until blended.
Pour the batter into the prepared pan and bake until a wooden pick inserted near the corner comes out clean, 70 to 75 minutes. Let the cake cool in the pan for 10 minutes before turning it out onto a wire rack to cool completely.
To frost the cake, turn it bottom-side up onto a cake plate.
While I can't send you a slice of this cake, I can do something even better. I can send you your very own copy of The Brown Betty Cookbook. This will make the perfect gift for a friend or relative or just keep it for yourself. I won't tell anyone...
***GIVEAWAY***
The giveaway is open to my blog followers and/or Facebook followers. If you're one of my followers, please leave me a comment below telling me that you would like to win a copy of the cookbook. Also, please leave me your e-mail address where I can reach you if you're the lucky winner!
DEADLINE: November 11, 2012
Disclaimer: The publisher provided me with a review copy of this cookbook; however, the opinion expressed here is my own.